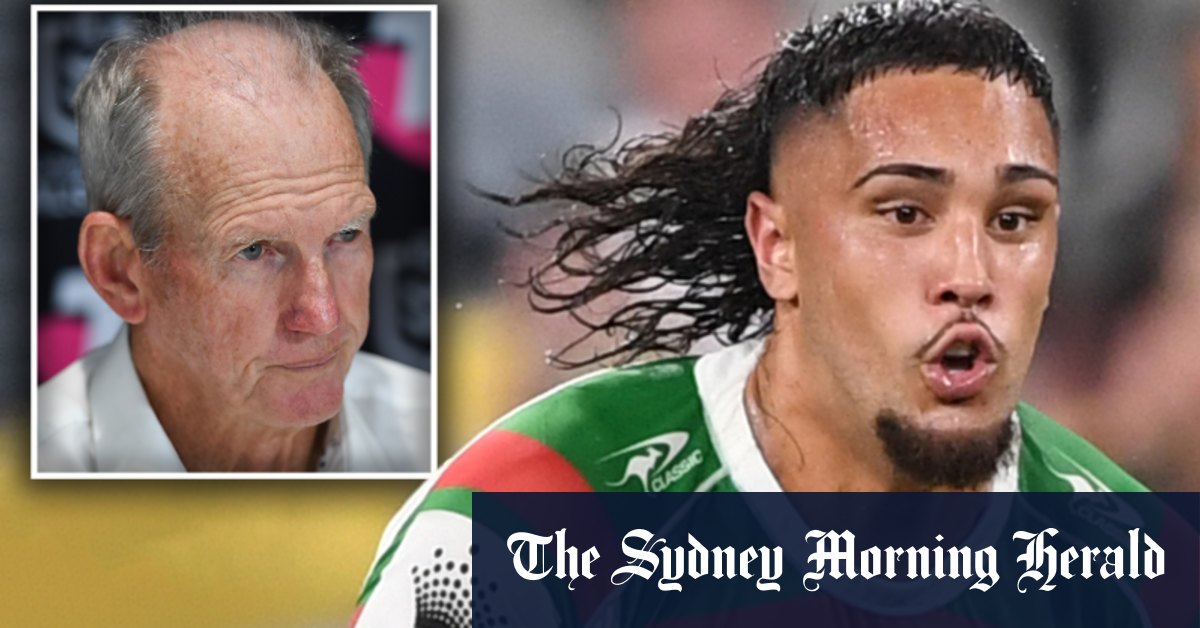 Bennett finally kisses the mule with Koloamatangi
"There was never any footage or photos of it. I almost ran to the practice paddock and it didn't take long for me to be turned around and sent straight back inside.
"When you are losing your hair at a rapid rate like Wayne, you shouldn't really be judging other people's hairstyles. There are ridiculous haircuts now. Maybe he mellows a bit with age.
Souths rookie Jai Arrow was told last year by Bennett that he wouldn't set foot anywhere near Redfern Oval if he kept the mule he was famous for while still at home. the Gold Coast Titans.
"I had my two minutes of fun with my hair," said Arrow. "Wayne said, 'you're not coming to the club with that haircut.' I told him it was for charity.
"Keaon's hair looks respectable in the front. At the back, it becomes quite long. We only have two weeks left, hopefully, so he got away with it. Keaon is the lucky one.
Kolomatangi said Arrow needs to be smarter when it comes to the supercoach.
"Jai didn't have a mule – his hair was a disaster," Kolomatangi said. "I don't know how Wayne let me keep him.
"Other players have had different styles, and I know he's not a fan of rat tails and mules.
"I had a mule before the Charity Shield last year. He told me I wouldn't play if I hadn't cut him, so I cut him that day, came the next day and he was happy.
"When COVID hit, I let my hair grow, kept it and thought I would keep growing it until he told me to cut it.
"He made jokes about my hair but never really told me to cut it.
"It's cool if I'm the only one with the hair."
Kolomatangi hasn't cut her hair back for a year.
Loading
Alf Langer, another Brisbane icon who won four prime ministerial positions with Bennett at the Broncos, and as the coach has been challenged most of his life, admitted there was some leeway given to the players. who put all their hearts into the jersey.
"He'll let the little things go by if a player does his job, and [Koloamatangi] obviously does its job, "Langer said.
Jamie Soward won the 2010 prime ministerial post at St George Illawarra under Bennett, but said there were no savage haircuts for the coach to quell. Matt Cooper had already lost his rat tail.
"We were like a boarding school – 'Gaz' [Mark Gasnier] clung to what he had left, the craziest haircut was 'Horse' [Michael Weyman], and he had no hair, "Soward said.