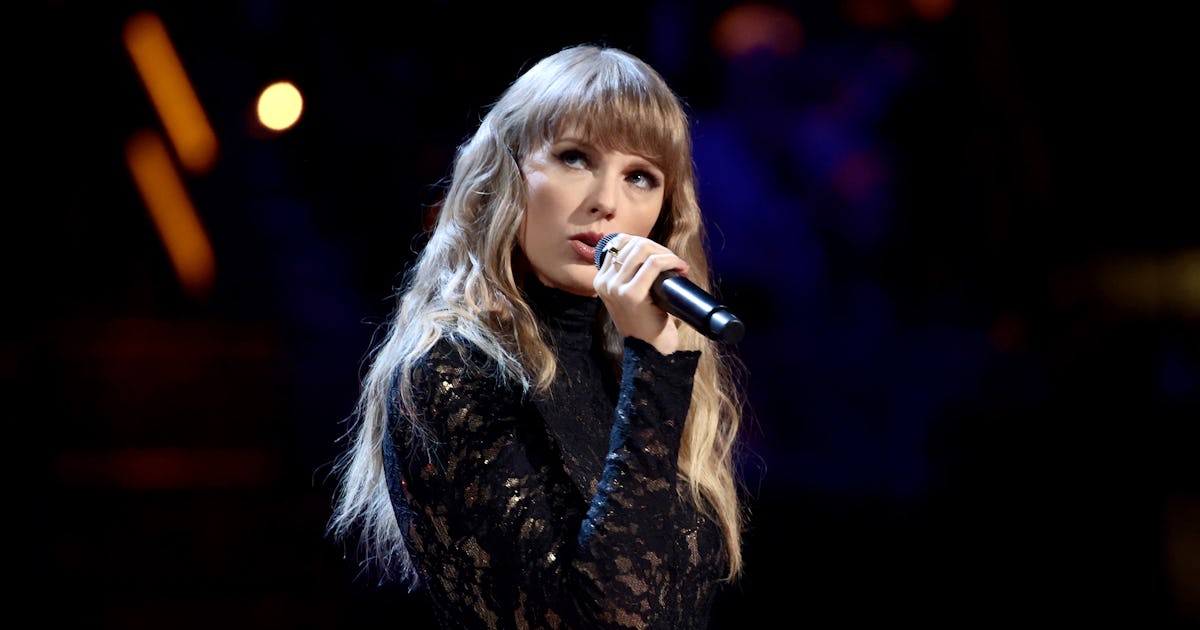 How to get Taylor Swift's hair, according to hairstylists
Having been in the music industry for over 15 years, it wouldn't be surprising if we saw all sorts of variety in Taylor Swift's hair evolution. But the singer-songwriter has rarely changed her hairstyle since her first appearance on stage in 2006. Sure, Taylor Swift's hair when she started out was a gorgeous blonde curl, but once she cut it shorter and let her natural wave take over, there was no stopping her. Of course, it wouldn't be fair to talk about her hair without giving an honorable mention to Taylor Swift's bangs. A main character in her own right, it's been part of her on-and-off look for most of her time in the spotlight. From the cut and color to styling her bangs effortlessly, here's how to get Taylor Swift's signature hair according to the experts.
How to get Taylor Swift's signature bangs
Swift has been a chameleon when it comes to her hair, changing her style over the years, but one thing she keeps constant is her bangs. Switching between two distinct styles of bangs, the singer tends to switch between a slightly heavier style and a growing style.
To get Taylor Swift's style of bangs, celebrity hairstylist Jason Collier suggests talking with your hairstylist first. "Work with your face shape. What works for Taylor doesn't mean it will work for you," he warns. "Taylor's bangs are quite heavy but still have a slight movement and texture. You want to ask for something soft and easier to style. If cut blunt and straight, it can fall hard and be quite harsh .
Dom Seeley, celebrity hairstylist and international creative director at ColorWow agrees. "You need to consider face shape, as well as upkeep and upkeep, as well as your personal style," he says. "If you're committing, keep it softer and longer, so you can play with the length to be less committed and facilitate growth."
How to get Taylor Swift's haircut
Whether you've opted for bangs like Taylor Swift or not, keep the softness in the front in mind when achieving Taylor Swift's haircut, Seeley says. "Also keeping the layered lengths a bit longer to blend; it's not blunt or straight cut; it has a slight roundness along the length. Her best tip: Ask for the front to be slightly rounded with gradual length, building around the edges to keep it playful when it comes to styling it.
How to do Taylor Swift's hairstyle
"Blow-dry using a large, round-bristle brush to get fullness in the bangs," suggests celebrity hairstylist Neil Moodie. "Don't use heavy styling products, just a detangling spray (like Biolage All In One Coconut Infusion Spray) and layer with L'Óreal's Tecni Art Pli, a heat-activated spray that gives shape, memory and lifts roots ."
What is Taylor Swift's natural hair color?
Taylor Swift's natural hair color is what industry experts would call a base six or seven, Moodie says. "That would commonly be called mouse, but I think her natural hair color leans more towards a dark blonde, as opposed to a light brown."
Does Taylor Swift dye her hair?
Taylor has been very experimental with color in photo shoots and music videos, but she tends to stick to her mousy blonde locks. However, she dyed her hair bleached blonde for an American vogue cover shoot in 2016, and it marked a significant shift in her hair story.
"Taylor's hair would have been natural at one point, but due to the fact that she went bleached blonde a few years ago and then went back to her signature color, there would have been a coloring process. at stake," says Seeley. "I imagine she'll have some color in her hair, but it's done so well it looks natural."
How to Get Taylor Swift's Hair Color
While she rocked the platinum blonde look for a while, Taylor returned to her natural color before long. "Even when her hair is natural and silky, I think she'll have a soft streak in her hair to keep it dimensional and expensive," Seeley says. "She did it in such a way that she didn't look like she tried very hard. It's a great color placement that accentuates her face and bone structure.
Collier adds, "It looks like she has micro highlights, which are super thin highlights, and then maybe a little sweep at the ends. It gives the color a super natural look and when it grows the roots aren't very obvious.