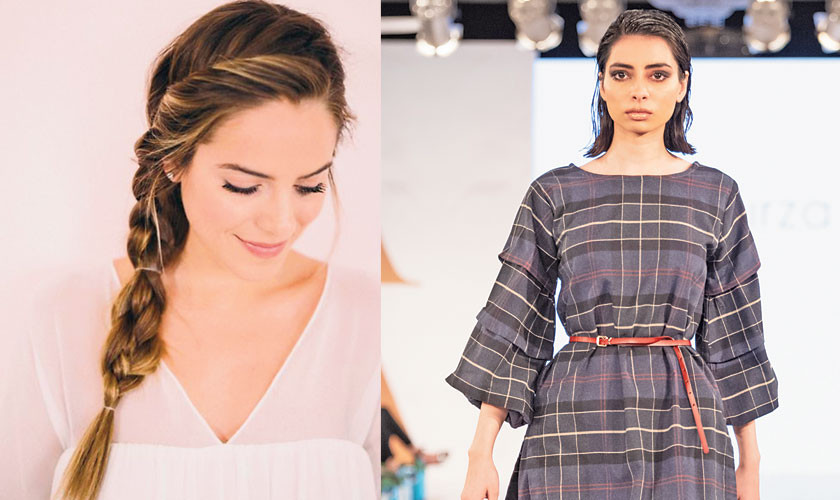 IT'S CHIC, CUTE AND CLASS!
When it comes to dressing for winter, your priority is to stay warm – we're talking about coats, comfy socks, shawls, cardigans and so on. But just because the weather is gloomy doesn't mean your overall look should be too. This is when your hair comes to the rescue. Whatever your taste or hair type, you can always find something that can make you stand out. Whether you are looking for something classy, ​​cute, or classy, ​​we have something for you. This week you! made a list of hairstyles that will raise the temperature in cold weather …
Wavy bob
A wavy bob is both chic and playful. This winter you should wear your bob in a more casual style with lots of subtle layers. There's something for everyone with the wavy bob: thanks to the volume and shape of this bol-esque style, your features instantly appear more streamlined and slimmer. It is perfect for almost any woman and is great for versatility. Not to mention that you can get ready in less than 5 minutes in the morning! Finally, the square is ideal for adding a bohemian-chic touch to any outfit.
Loose bottom pony
You can't go wrong with the low fuss-free ponytail. a classic hairstyle that has been reimagined for modern, active girls. It seems to be becoming very popular with millennials looking for a low maintenance hairstyle that is easy and chic at the same time. We think this is a great hairstyle to style since you can finally wear your hair down. Whether you go for something feminine or an androgynous style, it works best with all styles and hair types. Loose tendrils, stunning textured braids, trendy hair accessories and clip-in extensions that give your mane intense volume, are styles we can't wait to try!
The bubble pony
For girls with thick hair, styling can be long and tiring. This style is sporty, modern and easy. Most of us probably first encountered the Bubble Pony on animated Disney heroines (remember Jasmine's gorgeous dark locks?), But her latest iteration is anything but childish. Simply pull your hair up into a high pony, space the rubber bands every few inches, and pull on both sides of each section to achieve that rounded effect. You can wear it with high collars, coats and maybe a nice flowing evening dress.
Long (like very long) waves
It's no secret that celebrities love their extensions and there's no reason you can't too. The best thing about cold weather is that you play around with your hair length and also use your hair to keep warm. Since the wedding season is upon us, you can take this opportunity to flaunt long hair with your party outfits. Long hair with a desi outfit is always an amazing combination.
Updo with stylish bangs
It's a classic. If you have bangs, you can easily make them the star of the show with this easy updo. Smooth your bangs and leave a few longer pieces behind the ears for dimension. You can find a lot of inspiration for this kind of style from celebrities here and in Hollywood. This is a perfect style for anyone with a round or chubby face as the bangs make your face look a bit thin.
Huge, dreamy curls
Curls always add a bit of drama to your look, and while curling your hair too frequently can be damaging to your hair, you can try twists! Twist-outs are great because they can be very versatile. Simply part your hair into neat little sections and twist! You're going to want to use a leave-in curl conditioner and oil to lock in the moisture. If you have thick hair, start by parting your hair into 6 sections and then continue to the subsections. If you make your twists the thickness of a pencil, they should last you a while.
Twisted braids
Braids are a great way to style your hair all year round, but there is a lot of potential for braids in the winter. It is perfect for keeping your hair out of your face if you are going to bed for fun winter activities and it also allows you to flaunt your locks even if you are wearing a beanie or hoodie. And we think the movie 'Frozen' already shows how beautiful braids can be with a winter outfit. You can try the twist braid, which is feminine, relaxed, and just the right amount of mess. This braid looks best with a deep side part and works best with day hair.
Delicate hair accessories
There is something about winter that only draws you in the small details, which is why delicate accessories made the cut. Make any hairstyle look feminine and whimsical by adding delicate pearls throughout the style. It's easy to weave them through a braid or add them as an accent in a top knot. Go from a day of lazy styling to total glamor in two seconds with a pair of beaded hair clips. Bonus: They also work great for pulling off adult bangs.