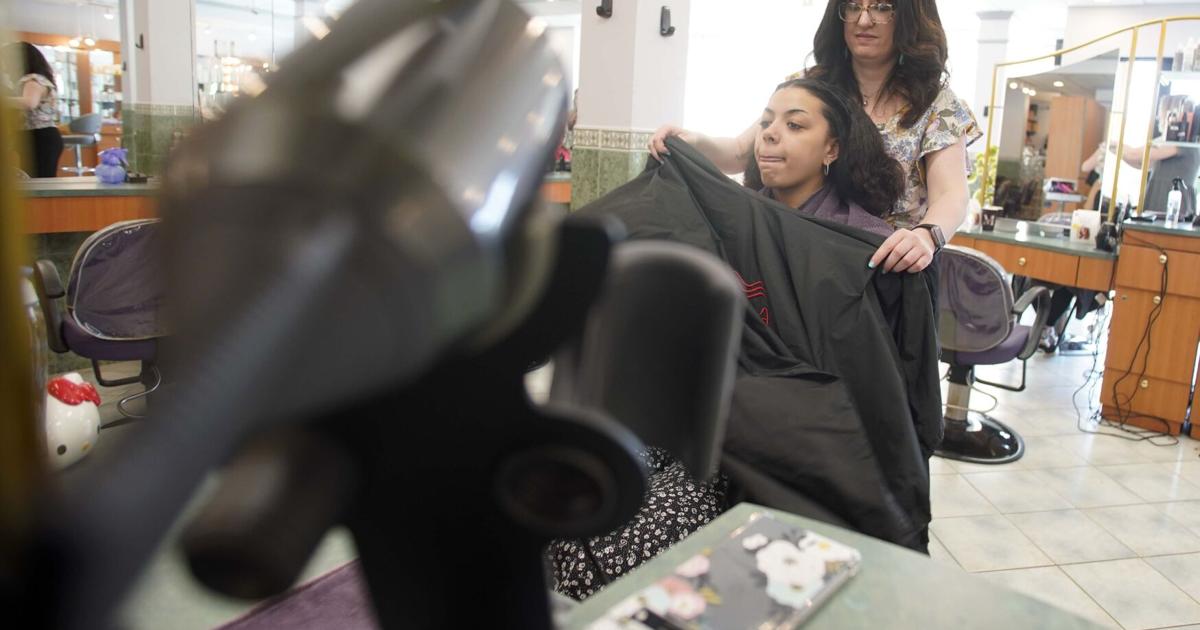 Nicole 'Nikki' Dimitropolis originally wanted to be a nurse. But she found it more rewarding to help people as a hairdresser | Business
PITTSFIELD — People who need to help others often gravitate toward careers in medicine or social services. Nicole "Nikki" Dimitropolis started out in this direction, but decided to become a hairstylist instead.
Hairdressing is her way of helping people. The Windsor resident has been plying her trade at the Clip Shop Grand Salon & Day Spa in Pittsfield for 20 years.
In a recent interview, Dimitropolis told us why she became a hairstylist, what she gets out of the profession, and how the job is done.
QWhy did you want to be a hairdresser?
It was by accident, actually. I was in nursing school. I was approached by one of my girlfriends with whom I worked at Guido [Fresh Marketplace] and she said, "Hey, let's go to hairdressing school," because I didn't really want to be a nurse. I've always wanted to be a nurse since I was little, but when I came to the clinic I decided it wasn't for me. So we went to observe the program at [Pittsfield High School]. I loved it and the rest is history.
QSo you were in nursing school when you changed your mind?
AYes. I did my clinical program, which was the third year. I wanted to be a dermatologist nurse practitioner, so it would have taken seven years. I was halfway there. I started at UMass Amherst then my dad passed away so I went to BCC because I had to come home and take care of my mom.
QSo you were already in college and then you had to go back to high school; how was it?
Being a grad student has its challenges because you're going to school with high school kids again. So it's an interesting experience. You have to step back a bit. But our teacher was really supportive and he allowed us to have a schedule a little different from them.
But it was telling because a lot of these kids were really determined to become hairdressers at such a young age. I wish I had known that when I was in high school because I would have gone through the program then.
QHow do you become licensed?
There is a 1,000 hour training program that you must enroll in. They call it a state board licensure. So basically you go to school for that, get your 1,000 hours and then you can get your license. You got so many hours perming, so many hours cutting hair, so many hours [doing] facial or nail care. Once you get all that, you can take the test and go to work somewhere.
QHave you ever regretted giving up nursing for hairdressing?
A never. No. I love helping people and I love the environment I work in. There are so many different avenues in hair styling. I could be a manager. I could be a beautician. I could be a nail technician. I don't have to do my hair if I don't want to. In nursing, I was kind of stuck being a nurse.
QWhere does this desire to help people come from?
I think it's because my dad had cancer all my life, that's why I wanted to be a nurse.
QWhat is the best part of your job?
I love doing my hair. This is my passion. I love doing hair transformations and color corrections. I love bringing in someone who, for example, dyed their hair one color and then completely transformed it, like from black to blonde, so people could see the before and after. It's incredible.
QIs it quite complicated at first?
It's really complicated. It takes a lot of education. It takes a lot of trial and error and you don't always get it right the first time.
QSo how do you learn to do it right while making mistakes?
I'm really lucky. The reason I started working at the Clip Shop is because they have this assistant training program. We get patterns and we can style our friends and families and try to practice them and learn the trial and error and what happens before we take on a paying client. And we have an educator there. We actually have people to help us and formulate our colors because that's the hardest part.
QShould the colors themselves be mixed? I went to the Clip Shop and noticed there was a sink in the back that looked like a chemistry lab.
AIt looks like a chemistry lab. We mix absolutely all of our colors. They are all personalized. At school, you start learning about hair colors. This is called a color wheel.
It's interesting because you go to a grocery store and you can buy these box colors that are God knows what chemicals, and they have these little instructions on them. They say light brown to dark brown, put it on and it will come out with color. But really that never happens. That's why you have us.
QSo how do you mix colors?
AIt depends on what you are trying to accomplish. It's different for everyone. Now I could put the same color on you and me, but the result would be completely different. It all depends on the end result.
QSo you say you match your colors to the client?
AYes. Everything is personalized for each client and what he wants. It's not a one-size-fits-all solution.
QWhat is the hardest part of your job?
AI looks like when you need to navigate through people. You get people who are in different states. You have people who are very happy when you help them, but you also have very sad clients who may have cancer and have to wear wigs. This is the difficult part.
You have to really try to be strong for them and try to navigate. We actually took a class at Moments House on how to adjust wigs, [how to work with] people who have abrasions from chemotherapy, how to give them products to help their scalp. In fact, I lost a very dear client a few years ago. I still haven't recovered. It was very heartbreaking.
QWhat is the hardest hairstyle to master?
AI would probably say perm. It was not my generation. When I got into hairdressing, it wasn't really fashionable. So they gave us perms. They kept asking us to do these mannequin head perms in class. It was so laborious and it takes forever because the chemical smell gets to you. And it's thorough. You need to get every little hair on every stalk. It is a very tedious procedure.
QWhat is the simplest?
AI loves foiling. I could foil and sweep (paint highlights) all day. I like doing it because it's different for everyone.
QYou always hear that barbers are like bartenders because their customers tell them everything. Is it the same for hairdressers?
Absolutely. You hear the ups and downs and the bad and the ugly. You kind of walk through people's lives with them and build relationships with people who follow you throughout your life. I mean, when you start out, maybe they're in high school and you're going through their marriages, their marriages, sometimes their second marriages, the loss of a parent. You kind of live life with them and through them. And I think he's the best customer. They are also the most loyal.
QWhat advice would you give to someone who wants to become a hairdresser?
AI looks like you need to be determined. You really have to want it because it's a lot. It's a constantly evolving career. You have to constantly evolve in this industry or you are going to be left behind. It can't be for the person who just wants to learn one thing and be done.