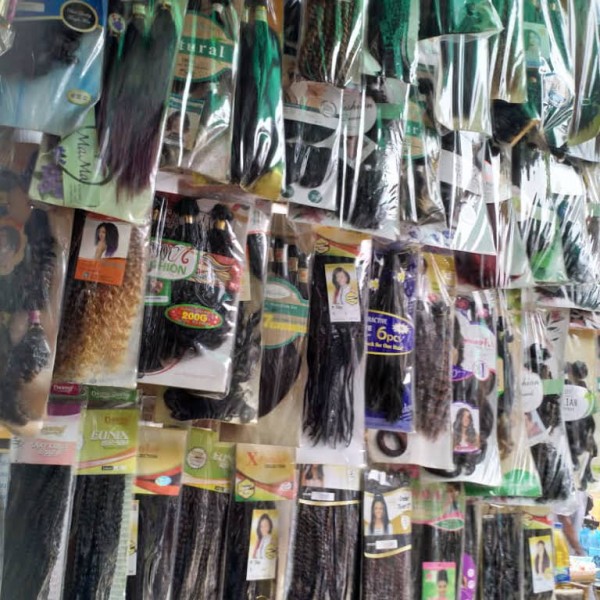 The Money Spinning Business of Weave Ons, Wigs
Weavings and wigs have become a very lucrative business with various opportunities in the African continent, especially in Nigeria. Wigs are commonly known as headgear made from human, animal or synthetic hair. According to estimates, studies have shown that the dry hair market in Africa, i.e. the market for weaves, wigs and hair extensions, is currently worth more than $6 billion per year and growing quite rapidly.
At least eight in ten Nigerian women wear wigs as part of their fashion items for their daily activities, a media survey reveals. The reason for the increase in demand is not far-fetched: the desire to look younger than one's age; for convenience and; the need to save time as many ladies reveal.
A business professional and CEO of Kikillicious Hairs, Nkiru Omile, said she ventured into the wig industry to make Nigerian women more beautiful and to build her confidence.
She said, "A good percentage of Nigerian women suffer to get their hair done or change their hairstyle quickly. Some suffer from hair loss or alopecia, so my goal is to make Nigerian women effortlessly beautiful at an affordable price. She adds that Nigerian women want to look good and are willing to spend twice as much on clothes and hair, which in turn creates a high demand for good weaves and wigs.
She added that weaves and wigs are sourced from different countries, for example, China, India, etc. a good synthetic hair finished product.
Nkiru further mentions that anyone can start weaving and selling wigs with absolute zero capital by engaging in what are called "drop shipping business techniques". It's about marketing weaves and wigs for well-known hair business owners like Kikillicious Hair and they in turn pay you a commission which you can use as start-up capital.
The wig and weave business is very profitable, operating the business for years for hair of different colors, textures and lengths in Nigeria. Nkiru says his business has an international clientele from various parts of Africa and the UK, adding that the profit margin can go as low as N3,000 and as high as N20,000 per wig.
She advised anyone getting into the business to start small, find their sources, test their sources, and be careful who they give their money to in the name of buying wigs, and most importantly try different suppliers and not putting all the eggs in one basket.